"Is that an earthquake?" the candidate asked with their eyes wide open, as everything around us started shaking. On September 19th, a 7.1 earthquake hit Central Mexico shortly after 1pm, and I was there interviewing university candidates for Microsoft. We were able to exit the building without issues, and even though my phone was unable to make any calls, it had data connectivity, allowing me to contact my family and friends over WhatsApp.
Many others weren't so lucky: 369 people were killed, and over 6,000 were injured. The earthquake occurred on the 32nd anniversary of the 1985 Mexico City earthquake, which killed around 10,000 people. After spending the following days inspired by the amazing reaction of the Mexican society, united and determined to help each other, I wondered how different the situation would have been without technology's help. How long would it take for people to find out if their families and friends were OK? How would they be able to find help or where help was needed?
My good friend Paulina Bustos was the perfect person to talk about these issues, so I decided to interview her. Paulina studied Computer Science at the Tecnológico de Monterrey University, worked at Microsoft in Redmond, WA for over 3 years and is now living in São Paulo doing a Technology Fellowship with Artigo 19; she is the co-funder of Cívica Digital in Mexico, where she worked with several non-profit organizations and governments to strengthen citizenship using technology, and she also teaches Software Design & Analysis at ITAM University.
Where were you during the September 19th earthquake in Central Mexico and what was your immediate reaction when you realized the magnitude of the event?
I was in Sao Paulo in a meeting, when my cellphone started ringing with all the messages from family and friends. My oldest sister lives in Mexico City and she usually texts back within the first 5 minutes after an earthquake. This time she took almost an hour. I knew immediately that something was off.
What is Codeando Mexico and what's its mission?
Codeando's role in society is to push technologists into solving public problems. A public problem is one that affects us all, as opposed to a private problem, like sending an email to a personal contact. Public problems involve Public Transportation, Health, Education, etc.
Why do think such a platform is needed in today's society?
Technology is ubiquitous in our everyday life. We use it to communicate, process information and for entertainment. However, technology has also been used to create private profit and value. What if we used technology to solve some of the problems that affect everyone? Like, getting from your home to your work place in less time, having cleaner cities or better education for all. In order to tackle these problems, we need people with the right knowledge: programmers, designers, product managers. We need them to start thinking in new ways of using technology to solve different problems for everyone. That is why Codeando Mexico is needed.
Codeando Mexico is working on several tools that are critical for those impacted by the earthquake, like helping them identify fake news or listing information about help & resources centers: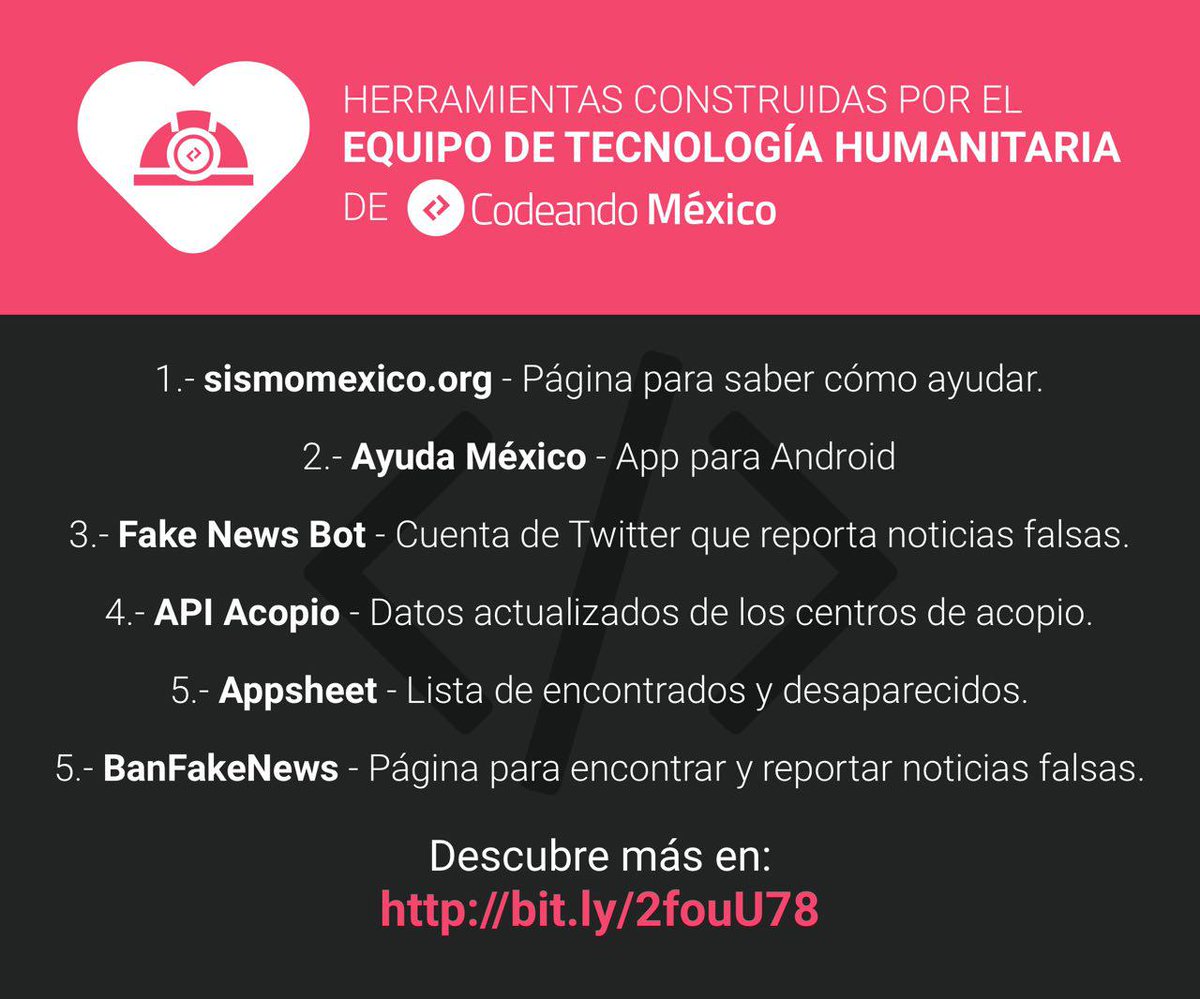 Why did Codeando Mexico come up with the initiative to create humanitarian tools with technology?
In moments of crisis, it is important to put our hands together in collective actions. In the first 48 hours it was easy to see that technology was important, because people were mobilizing in the street but there was a lack of accurate information on where to go and how to help. After the first 48 hours there is still a lot of help needed, people that suffer damages or need legal and psychological aid.
Technology can help stir the information and data in the right direction. Historically this kind of help should come from the government. However, the Mexican Government is not equipped for this work due to the lack of resources and knowledge. Here is where a community of organized technologists can and should help.
In the first hours after the earthquake, there was a flood of news (both true and fake). What's the role social media has played during the aftermath of the earthquakes in Mexico?
Social media has two faces in a humanitarian crisis. On one hand it is there to organize volunteer actions and to inform about the real situation on the ground, and on the other hand it can help spread fake rumors or fake information. A lot of the fake information is simply outdated information, because platforms such as Facebook and Twitter prioritize popular information over useful information. If Facebook and Twitter do not change their algorithms, it's up to users to understand the best ways of using social media. Codeando's community created tools such as FakeSismo to tackle this problem. The initiative Verificado19s also united a group of journalists and volunteers to verify information in real time.
How do you think that open data can help in situations of social crisis like the one that Central Mexico is living right now?
Open data's promise is to empower citizens to audit the government and it helps them appropriate public problems and find better solutions. This is exactly what happened during the earthquake in Mexico, with the exception that we did not have open data to use. The majority of data that it was used in the apps was crowd-sourced from volunteers in the streets. If open data existed it would make helping much easier.
The reaction from the Mexican society after the earthquake has been exemplary, and more help will be needed in the upcoming months while reconstruction and recovery is underway. What's your suggestion for those willing to help?
Join us! We need more experienced hands on slack.codeandomexico.org to finish the tools that are already started and create new ones, for this and other public problems. One of the advantages of technologists is that we don't need to be in the same physical place in order to help, so let's use this to our advantage.
During the first hours after the earthquake more than 15 tools were created by more than 480 collaborators on Slack. This was translated into almost hundreds of code commits. These numbers show the true value of a community that gets together in moments of need. However, we are not done, Mexico has a lot of public problems to solve and technology is an excellent medium to start managing and eventually solving those problems.
---
Did you like this article? Subscribe for a new post every month:
---
Images via Codeando Mexico